Children's dentistry
From the age of six months.

Children's dentistry
You may not know that a child should have their first visit to a dentist already at six months of age, when the first teeth usually start to erupt. There is still a myth circulating in the world that baby teeth do not need to be treated. However, the truth is that early treatment of baby tooth decay will lead to healthy permanent teeth. As a rule, if the baby teeth fall out as healthy, then healthy permanent teeth will also grow.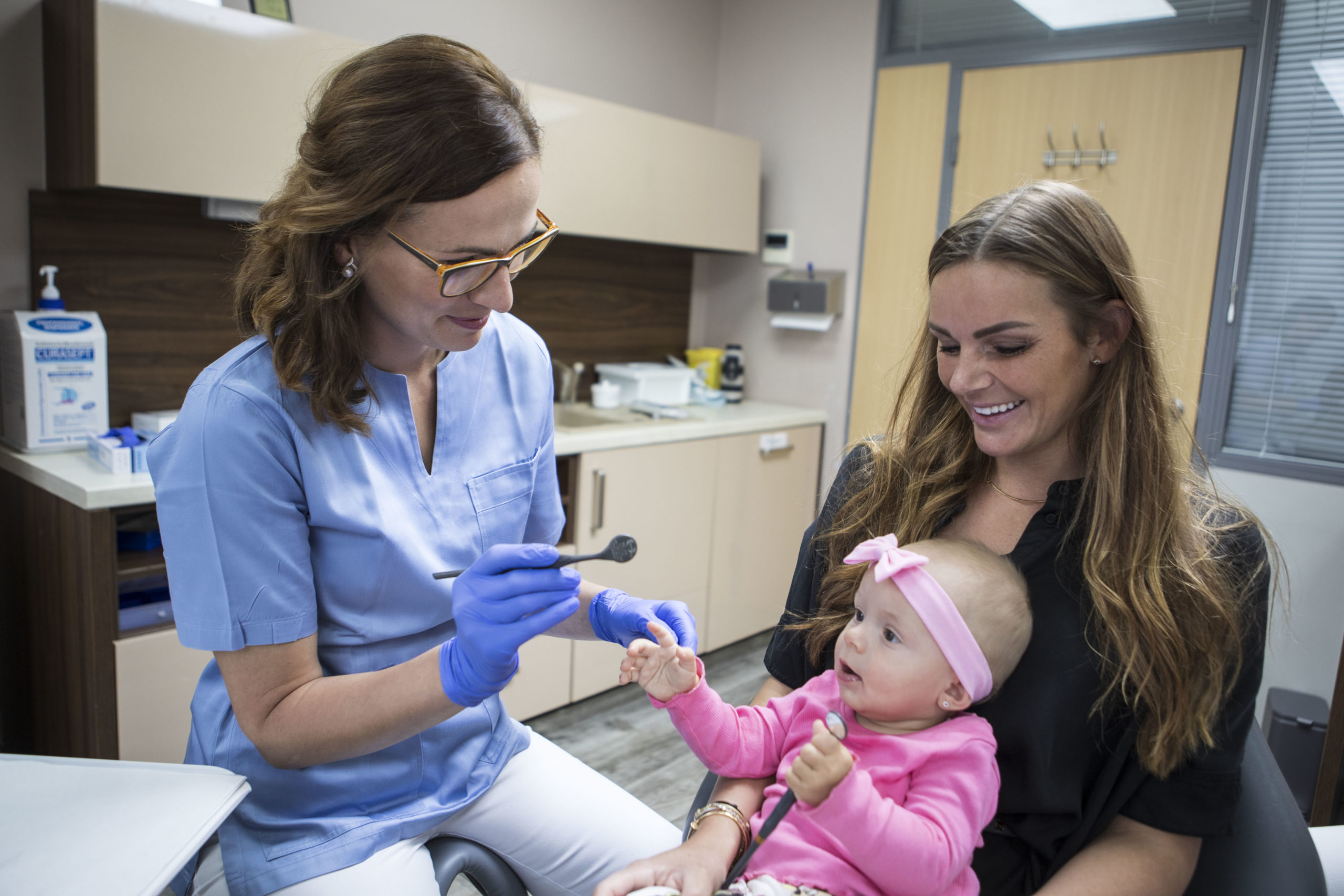 The first visit to the dentist is not necessarily about treatment, it is more about the first contact with the dentist and getting to know the new environment. In our surgery, we try to relieve the child of fear and create a pleasant atmosphere with as much patience as possible. During the first visit, the child rides in the dental chair, meets the doctor and the nurse, counts the teeth and finally rewards his bravery with a gift. It is important that the reason for your child's first visit to the dentist is not a toothache, swollen gums, or brownish teeth, as this could result in the first contact with the doctor being for Traumatizing your child and the fear of treatment could then persist into adulthood.
An important part of the first visit to the dentist is the consultation, during which the doctor will explain to you how you should properly care for your child's teeth at home - what paste and brush >choose, how to clean your teeth, what to avoid and you will also learn something about proper nutrition, thereby minimizing the possibility of tooth decay.
Here we can give you some tips to follow before your first visit:
it is better not to explain to the child in advance what to expect, he will learn everything from us
if at all possible, arrange a visit at the time of day that best suits your child and does not disrupt his/her daily rhythm
don't talk to your child about bad experiences at the dentist, don't talk about them in front of them either - what they don't have, they remember 🙂
you can take something the child likes, for example a favourite toy, book, CD, etc., to show the doctor
motivation by reward is good, but we recommend choosing something other than sweets 🙂
Healthy teeth are one of the valuable contributions you can make to your child's life!!!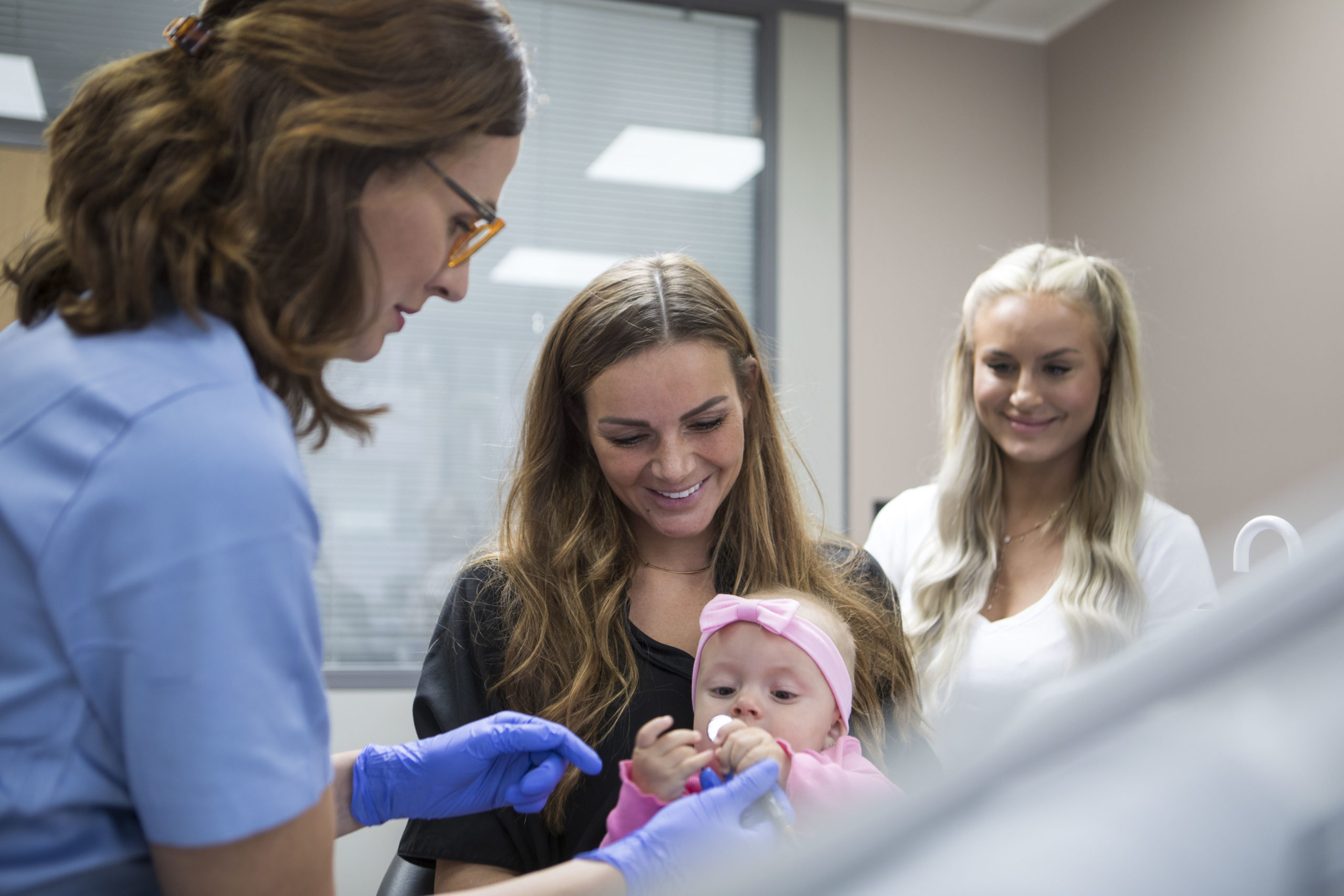 We must also mention that after the first visit, it is very important to follow the regular intervals of preventive check-ups, which you should have with your child at least every 6 months. With every visit to the doctor, which is only routine and painless for the child, his confidence will also grow and this is very important for his motivation and future healthy teeth. During the preventive check-up, it is usually only about fluoridation of the teeth and checking whether they are erupting correctly and whether there are no signs of tooth decay.
Treatment of children under general anaesthesia
If, for some reason, treatment in the classical way is impossible, we offer treatment of children under general anesthesia at our clinic. These are, for example, children who have a great fear caused by previous trauma, or theirtreatment would be long due to a large number of damaged teeth. The entire procedure is carried out very gently in the presence of a pediatric anesthesiologist and an assistant nurse. After the procedure, the child goes home with the parents.
Registration of paediatric patients
At the moment, we register new children's patients over 12 years old and younger children only in case of registration of a family member over 12 years old in the dental clinic Dental Office H33 Prague.
Dental Office H33
Hvězdova 33
Praha 4 - Pankrác